A hopper collects ore, which falls from an overhead conveyor or is dumped by a belt feeder into the bin. This causes dynamic loads and stresses, which we need to consider when designing a hopper. For this reason, our client approached us to perform a hopper structural design certification. We did this by analysing our client's proposed design with Finite Element Analysis. The results showed that the hopper required strengthening to reliably withstand the imposed forces. With relatively cheap modifications, our client (following our recommendations) implemented a more robust design. Therefore, these changes saved our client on future repair and maintenance costs. In addition, all our work complies with the relevant Australian Standards.
First, we modelled the hopper in detail and then added the forces. Secondly, we determined the stresses and deflections to show any weak areas. We then modified the design to reduce these stresses. The picture below shows the 3D model with the stresses: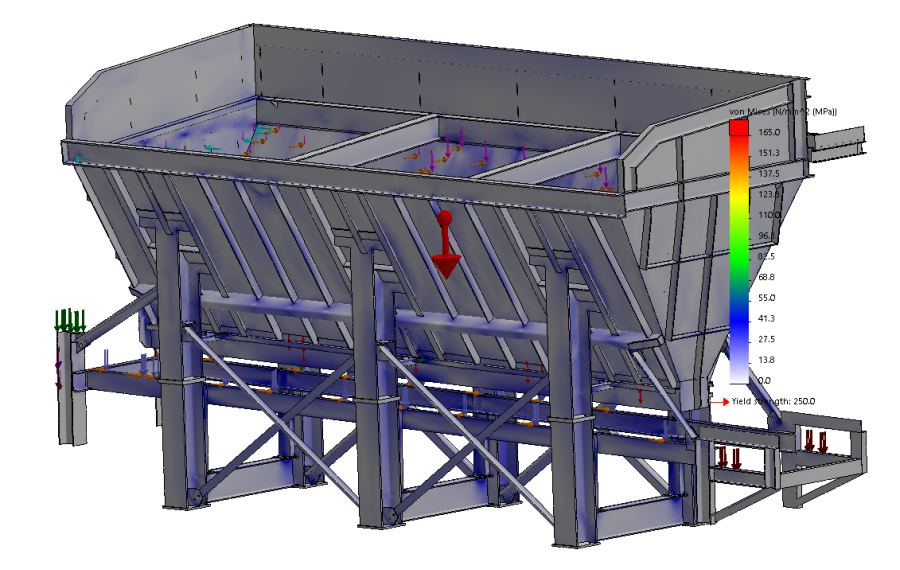 As a result, our client was able to make significant monetary and time savings by using our expertise. Most organisations need a trusted partner who will assist them through today's ever changing business environment. We have a reputation for providing cost effective world-class engineering support in very quick turnaround times. This makes us the ideal partner for small to medium sized clients that need more flexibility from engineering contractors. Do you have similar requirements for a hopper structural design? Please contact us to discuss your specific needs.