Is your organization looking for a solution to improve equipment and area access with an access stairway design? Enhanced access can significantly reduce inspection and maintenance time, boost safety, and save costs while simultaneously eliminating the need for scaffolding erection and inspection.
In workplaces where scaffolds are managed, conducting regular inspections and maintenance is crucial. This involves assessments during hand-over, after-handover, and following any scaffold repairs, modifications or additions. For registered plant equipment like prefabricated scaffolding, it's vital to maintain detailed records of commissioning, decommissioning, inspections, maintenance, alterations and, additionally, dismantling.
If handling these processes seems burdensome and expensive, fear not. Dynamic Engineering Consultants can provide an optimal solution. We specialize in designing permanent access stairways and structures that fully comply with AS1657 standards (https://infostore.saiglobal.com/en-us/standards/as-1657-2018-99067_saig_as_as_208310/).
Stairway access example
For example, let's look at a situation involving one of our clients. They faced a challenge to provide easy access to personnel maintaining their existing cooling towers. Accessing the equipment safely with their maintenance/inspection tools using the existing ladder proved to be a challenge. To resolve this issue, they eventually chose to install a permanent stairway. This decision led to a substantial improvement in their maintenance access and personnel effectiveness.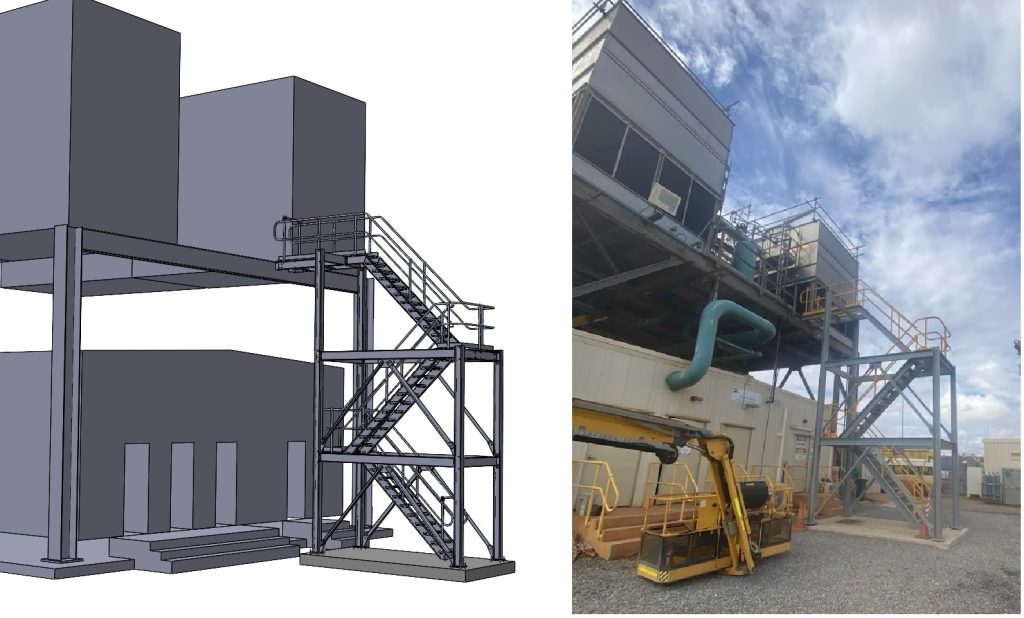 For this particular project, Dynamic Engineering took the initiative to develop multiple access stairway concepts. After extensive consultations with our client, we refined these concepts to select one that perfectly aligned with their needs. Subsequently, we engaged in 3D modelling, civil and structural design, and the creation of shop drawings, which you can access here (https://www.dynamicengineering.com.au/industrial/2023/01/30/sheetmetal-modelling-and-drawings/). Additionally, we generated civil drawings and obtained three quotes, each of which underwent thorough scrutiny to select the most suitable fabricator. Moreover, we provided unwavering support to the fabricator, addressing any technical inquiries that arose, and diligently oversaw the final release and inspection of the fabricated components.
If you require a similar access stairway design solution, we wholeheartedly encourage you to reach out to us today. Our "contact us" page offers various means of communication. We are enthusiastic about discussing your requirements and examining how our expertise can facilitate the achievement of your project objectives and deliverables. Please feel free to contact us at your earliest convenience.